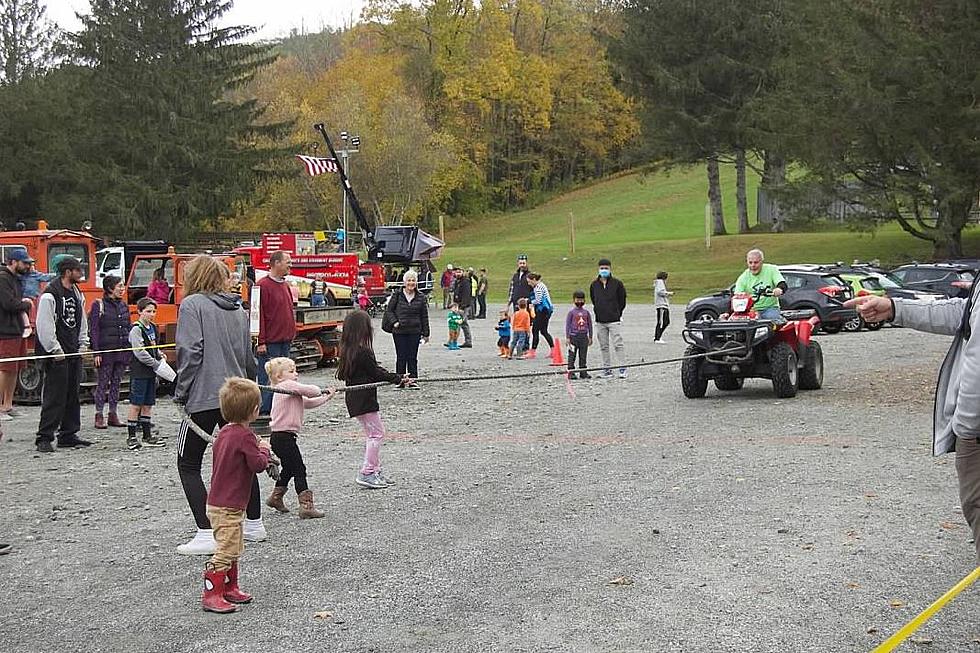 Fall Fun Featuring Big Trucks and Pumpkins Coming to Massachusetts
Great Barrington Rotary - Facebook
Without a doubt, there are many options to partake in with the kids during fall in Massachusetts but one event you do not want to miss is the annual Truck Day/Pumpkin Fest event at Ski Butternut in Great Barrington. If you are looking for something that is very kid-friendly the Truck Day event should be a stop on your list of fun fall activities.
Sponsored by the Great Barrington Rotary Club, the event includes over 50 trucks that kids can climb on and get into. You name it they'll have it for kids including fire trucks, dump trucks, backhoes, cherry pickers, race cars, and more. Plus, each year there are always a couple of junker cars at the event that the kids can splash paint at. What kid wouldn't want to toss paint/paint up a vehicle and be encouraged to do it to boot?
In addition to the truck portion of the day, Great Barrington Rotary will be running a silent auction where over four thousand dollars will go to the highest bidder. The kids will continue to stay busy and entertained with a duck race, food, a kid's truck pull, pumpkin painting activities, a water balloon slingshot, and more. Attendees will also have the opportunity to win Truck Day shirts.
The biggest part of Truck Day/Pumpkin Fest is the grand finale. Shortly before 3 p.m., a crane will be dropping a huge 300-400-pound pumpkin from high up in the air into a kiddie pool. It's quite the visual. As soon as that happens, the kids race to the smashed pumpkin to gather up the seeds.
I recently spoke with Mark DeCelle from Great Barrington Rotary and he mentioned that the Truck Day/Pumpkinfest event is getting quite a buzz with his friends in Boston so much so that they are planning on coming to check it out this year. There's no doubt that this event is growing and becoming more popular with folks beyond Berkshire County and the tri-state Berkshires.
Truck Day will take place at Ski Butternut in Great Barrington on Sunday, Oct. 15 from 10 am - 3 pm. The Pumpkin Drop will happen at about 2:30 p.m. that day. It's $20 per carload. All of the money that Great Barrington Rotary raises that day goes right back into the community including scholarships.
LOOK: How Halloween has changed in the past 100 years
Stacker
compiled a list of ways that Halloween has changed over the last 100 years, from how we celebrate it on the day to the costumes we wear trick-or-treating. We've included events, inventions, and trends that changed the ways that Halloween was celebrated over time. Many of these traditions were phased out over time. But just like fake blood in a carpet, every bit of Halloween's history left an impression we can see traces of today.
Gallery Credit: Brit McGinnis
SWEET: Here are the most popular Halloween candies
LOOK: 34 spooky dessert recipes for this Halloween