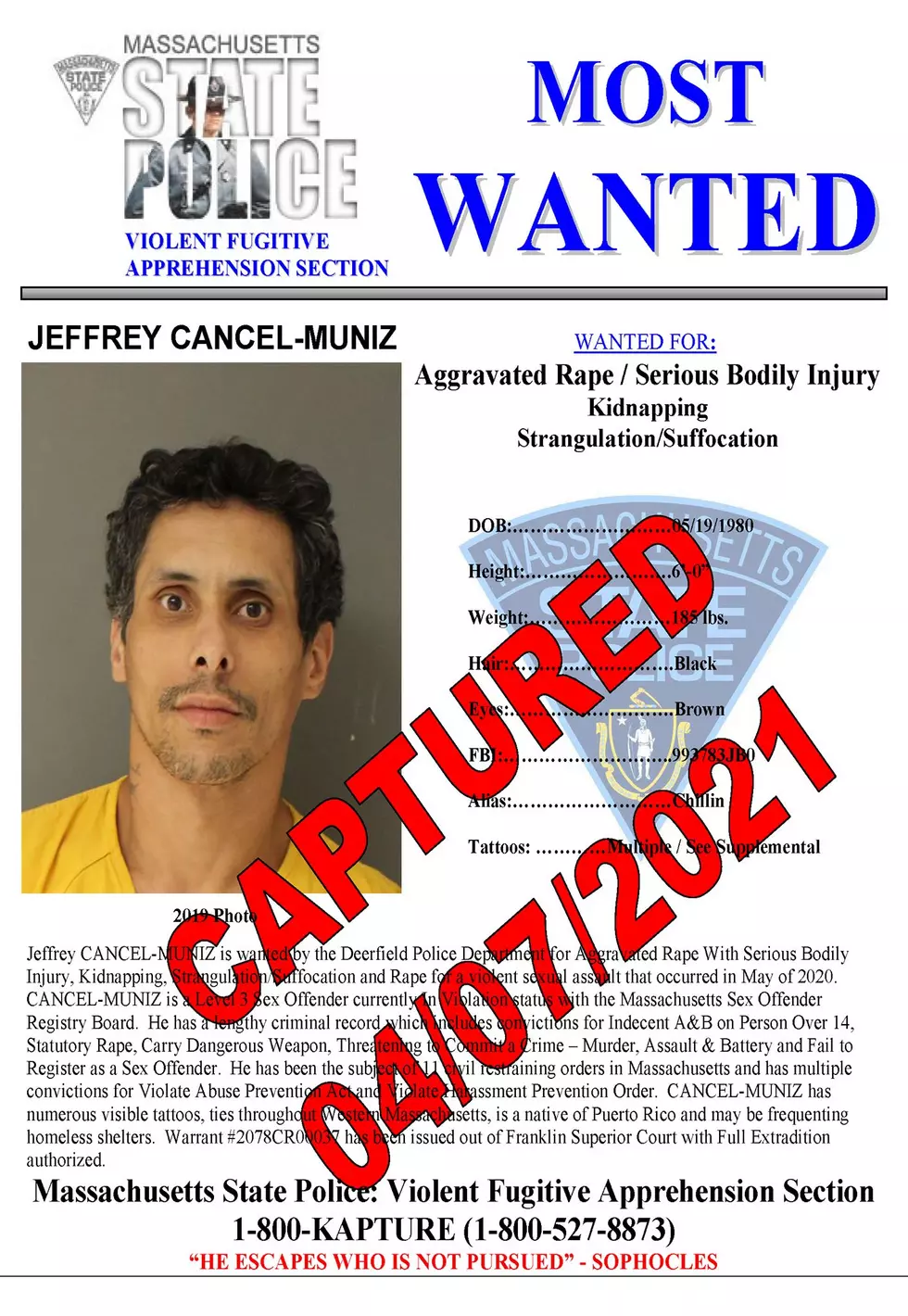 Rapist on Massachusetts "Most Wanted" List Captured
via Massachusetts State Police
Did you ever see a "most wanted" poster and think, do those things actually work? Does anyone ever recognize them? Well the answer is yes. Just ask the Florida motel employee who helped State Police capture an man alleged in a violent Deerfield, MA rape.
A suspected rapist added to the Massachusetts State Police Most Wanted list last month was captured in the early morning hours Wednesday in Kissimmee, Fla., all because a motel desk clerk recognized one of his guests from the wanted poster released by the MSP's Violent Fugitive Apprehension Section.
Osceola County, Fla., Sheriff's Deputies responded to the Travelodge Motel in Kissimmee after the motel notified them that a guest at the property, Jeffery Cancel-Muniz. Cancel-Muniz is a Level 3 Sex Offender who is wanted by Deerfield, MA Police for aggravated rape causing serious bodily injury, rape, kidnapping, and strangulation. The charges relate to a sexual assault that occurred in May 2020.
On April 2, investigators received a tip on its hotline that Cancel-Muniz might be in Kissimmee. On Tuesday night the desk clerk at local Travelodge had an issue with Cancel-Muniz, who was a guest at the property, and subsequently performed an online search of his name. The search results included the Massachusetts State Police wanted poster and other information about the fugitive that had been provided to media, and the clerk called the police.
Osceola County Deputies responded to the motel just after midnight today, verified the warrants against Cancel-Muniz, and placed him under arrest as a fugitive from justice. Deputies transported him to their facility for booking and he is currently being held. A virtual appearance in a Florida court is expected tomorrow, and Massachusetts authorities will arrange for Cancel-Muniz to be returned to this state to answer to the
Deerfield charges.
READ ON: See the States Where People Live the Longest
Read on to learn the average life expectancy in each state.