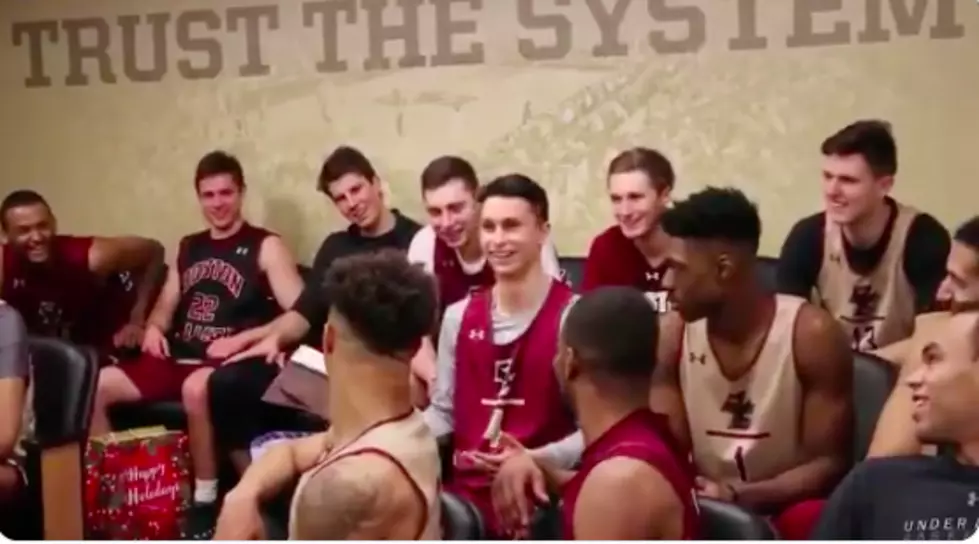 WATCH: Boston College Freshman Walk-On Surprised with Scholarship
BC Men's Basketball Twitter page.
It is certainly a happy holiday season for this young Massachusetts college athlete.
Following the Boston College men's basketball practice on Thursday afternoon, head coach Jim Christian gave the players on his team some words about doing the right things during the holiday season, along with Christmas gift bags.
Freshman walk-on Chris Herren Jr. did not receive a gift bag, he got something else -- a scholarship.
If the name sounds familiar, Herren Jr.'s father of the same name has one of the best comeback, and inspirational, stories you will ever here. In fact, Chris Herren Sr., who also played for Boston College and had a run in the NBA -- notably with the Boston Celtics -- has come to the Berkshires on a few different occasions to tell his story of trials and tribulations with his battle with addiction. Now his son has solidified a spot on the Eagles' roster in an incredible moment captured in the locker room.
Herren Jr. has started the last two games for Boston College, even racking up a career high 22 points in Sunday's 10-point victory over Fairfield.